| | |
| --- | --- |
| Geplaatst op 29 december, 2016 om 7:40 | |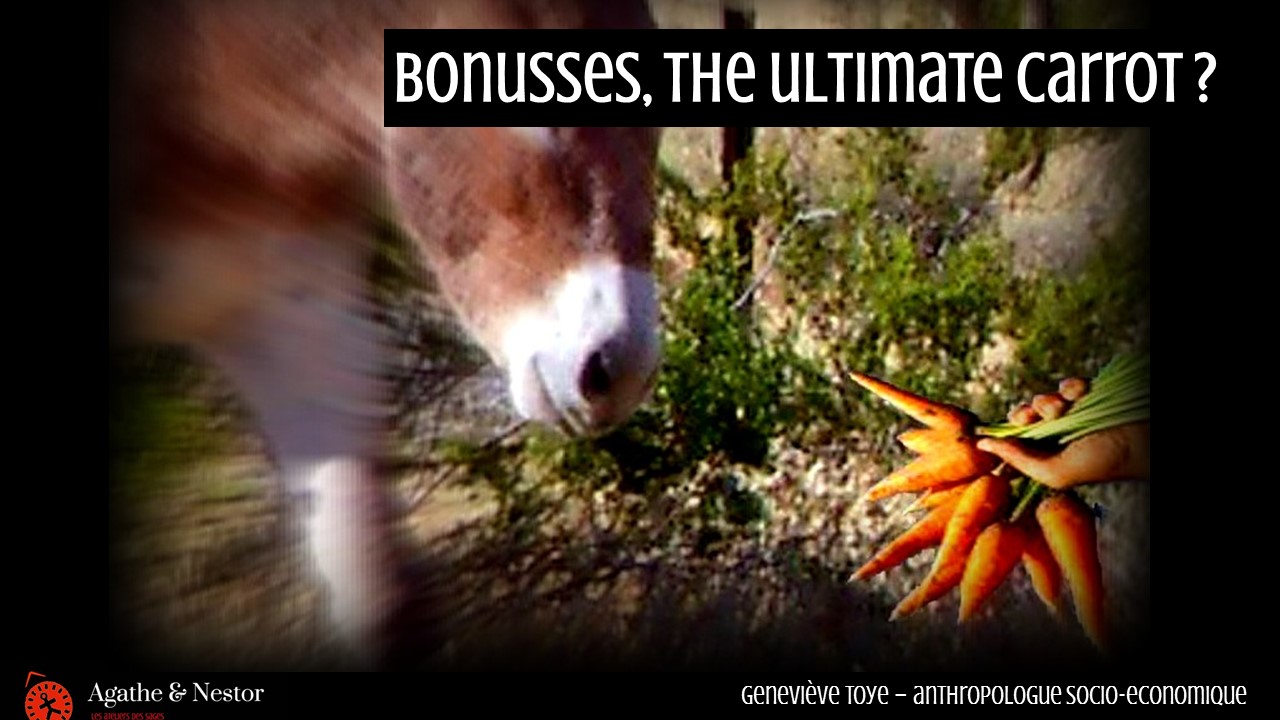 High time organisation started enriching their Human capital instead of managing their workforces!
2016 shuffles towards its last days… closure is near, evaluations are on their way.
What has 2016 brought? For whom? Have I hit my targets? Do I deserve my bonus?
Bonusses, let's talk about them.
Why do they even exist? Isn't one supposed to give what he can within the basic contractual frame?
A bonus is something that comes "on top": "An extra and unexpected advantage" as states the dictionary.
But how "unexpected" is your bonus?
My journey has given me the opportunity to observe many environments, and their bonus system. It made me question their utility, their cost, their effect on the short and the long term both on the individual and on the organisation
The first time I was confronted to "bonusses" was when my first husband started working in the automotive sector. He got a " %" on each sale, of which he was free to lose a part to "catch" the buyer. READ: the employer doesn't offer discounts to people buying cars, the discount you get is offered by your car salesman who sees his final salary topped off when he gives you a discount. Some employers really exploited the system, making people work 6/7 days for hardly no wage at all, having them returning "salary advances" at the end of the year…
Next discovery lead me to the "GAUSS" models, determining one could only have "x" well performing employees within a team. Sorry guys, totally wrong, totally demotivating. Some teams are really more performing than others.
Some teams have leaders to motivate them, some have to settle with experienced employees lacking leadership skills to manage them. That makes a difference.
I quickly discovered that, to work their way around the system, managers who wanted to show a special gratitude towards someone in their team, could grant a "special bonus", a "pot" of which the common employee didn't even know it exists and the one getting it wasn't supposed to talk…
Further came in the "balanced scorecard". I must admit, the idea made sense to me. Still it efficiency depends on the targets? The accessibility of the targets? The potential influence one has to get to the target?
But overall, these systems were, except for the automotive sector, real bonusses. Nothing recurrent, no pre-calculated part of the yearly guaranteed income.
That changed, when , as a freelancer, I got a proposal to join a steering committee on a permanent basis. Seen the financial compensation mass it represented, they proposed a fixed income of 60% and a bonus related part of 40%... for an HR position. Basically, and compared to the other members of the steering committee, they made a proposal, reducing the 100% wage to 60% offering the possibility to the firm to reduce the total mass with 40% on an annual base. They mentioned it was the "new" approach. It would be like that for all new members of the steering committee. Except for the fact that everyone was in place and since some of them were founders and most others closely related, it was highly improbable they would have been replaced. The "bonus" offer just drilled down to a possibility to hire someone at 60% of the market value. Right? Admissible? … to be questioned for sure.
A next assignment lead me to an even more estranging system. Companies' capital varies. Market position too. In a market context hosting less or even no competitors, organisations tend to focus on their internal processes. And they did. They had a vast audit department to make sure people were applying the processes as they should. And they had a sophisticated reporting system tracking the ones who didn't. They got a "red light". To turn the red light into orange or green, an indispensable action to avoid endangering their variable pay, they had to "take action". But "taking action" didn't mean solving things. It meant "taking notice of the blame, and acting to resolve the problem." Once the action taken, the red light could be adapted. So they took action. Most of them hired a "consultant" to solve the problem. The mention in the database would be "crashed" by the yearly audit report of the next year, making the process start all over again. The result was an incredible big population of consultants, of whom very few really knew why they were contracted and even fewer really delivered result. But the employees got their variable pay. That's what it was all about wasn't it?
What about bonusses for people working in public services? What do you think about this hypothesis: Imagine an inspector of the fiscal administration being subject to a bonus of 10% to 15% of his yearly income if he's able to "recuperate" for 1500.000 €/ year, let's top it off on a potential bonus of 8500€ /year. [1]
You'll agree, this amount motivates him to get on track, hiking through the economic landscape to catch potential fraud. Imagine the next step. They screen taxfiles and find a complex situation they don't get a grip on. Suspicious they guess fraud might be the reason of the reflected image. And they put their efforts in the issue to bring the fraud to the surface. And then, they have to admit there is none…. But since they spent so much man-hours on this issue, they risk losing their variable part… So they have two options: they propose to negotiate an extra taxable amount, or, even better, they just ignore their findings and send out an extra taxation bulletin, knowing on beforehand it will be rejected. Planning wise, they manage to communicate these results one week before Christmas Holidays, reducing chances of rejection and contestation to practically nothing within the necessary time-lapse to review their evaluation of the initial bonus related targets. The year is closed, they check the target box, and get their bonus: 8500 €. The extra taxation is contested, and the contestation is often judged in favour of the contributable , seen the validity of the arguments, resulting in a massive loss of virtual income for the State's Budget, a loss of working capital (public money) paid off in the format of a non-deserved personal bonus, resulting in more costs (public money) to plead the file afterwards, and even more, resulting in wrong public budget estimation for the next year since it was based on a dishonest calculation of virtual incomes, instrumented by employees whose sole aim was checking the target box in pursuit of their personal benefit through their yearly bonus. OK for you?
Of course not.
Bonusses tend to reveal the worst in one's personality.
They are almost never accurately linked to realistic targets, being either installed to avoid huge salary masses, or incorporated as a measure enabling "levelling" up of wages without formalising the upgrade in a real salary mass, but leading employees to the point they consider their bonus as a stable part of their yearly income, and would do "whatever it takes to ensure it".
In the first scenario, they'll lead to demotivation and loss of human capital in the end, in the last scenario they'll lead to pervert instrumentation of the system to ensure the "variable" part of the salary, generating extra cost through collateral damages. (consultants, contestation, fraud)
Bonusses almost never realise their objective: motivating people.
High time, organisations start being as creative as their employees trying to get around the system.
High time they understand people are unique, and what motivates one doesn't necessarily motivate another.
High time organisation started enriching their Human capital instead of managing their workforces!
[1] Même s'il s'agit de montants enrôlés et non pas perçus, car pouvant encore faire l'objet de contestation de la part des contribuables concernés, Philipsen a de quoi se réjouir. Il a calculé que chacun de ses fonctionnaires rapportait, en moyenne, 2,3 millions d'euros à l'Etat. Voilà un service administratif rentable !
http://www.levif.be/actualite/belgique/fraude-fiscale-l-inspection-speciale-des-impots-derange-t-elle/article-normal-373699.html
4.1.3 Rémunération totale ("total remuneration") En plus du salaire annuel brut total, l'administration fédérale octroie aussi une série d'avantages supplémentaires: • Les avantages actuels, comme entre autres le régime de pension, sont maintenus. • Afin de supporter la comparaison avec le marché au niveau de la rémunération totale, des avantages supplémentaires sont attribués à partir de la classe de fonction A3 pour une valeur de: - classe A3 : €2.500 - classe A4 à A6: €8.500 Le contenu et la composition de ces avantages supplémentaires doivent encore être déterminés. (http://finances.belgium.be/sites/default/files/downloads/Copernic%20-%20de%201%20%C3%A0%20A%20-%20La%20nouvelle%20carri%C3%A8re%20niveau%20A.pdf)
http://www.oas.org/juridico/pdfs/mesicic4_hti_IGF_stat.pdf
Categorieën: Geen