| | |
| --- | --- |
| Geplaatst op 29 december, 2016 om 7:45 | |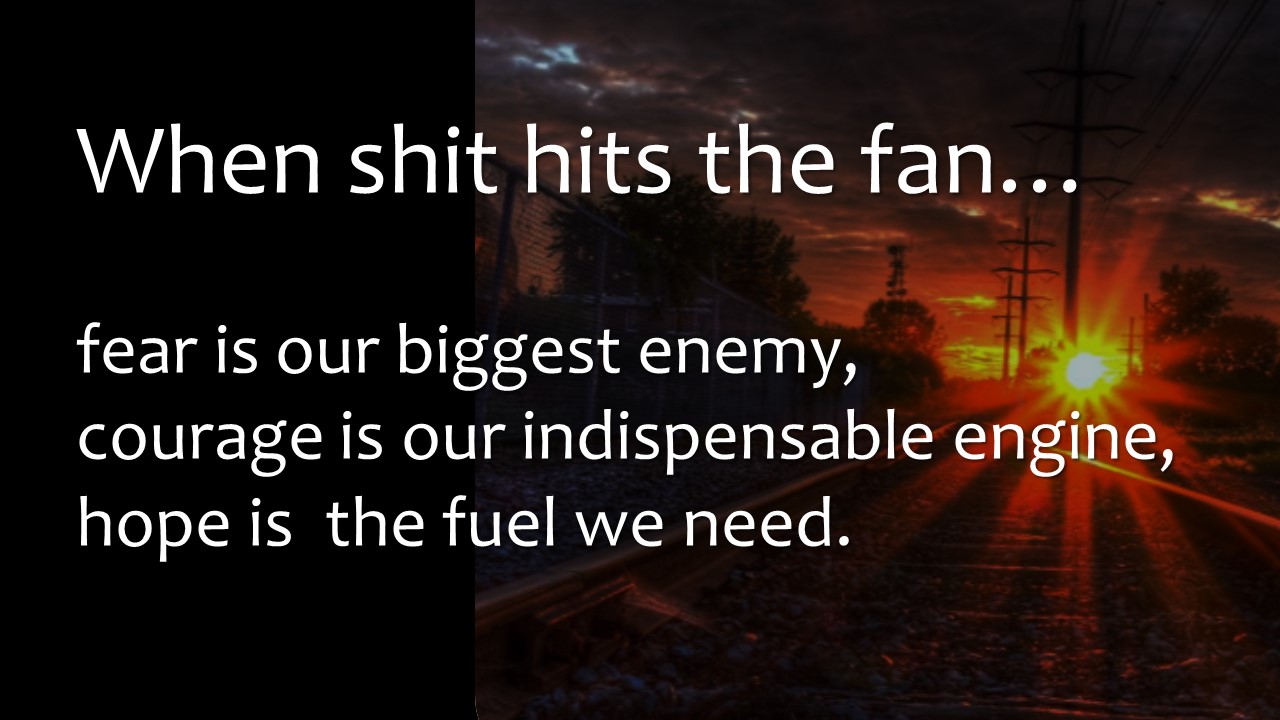 When shit hits the fan… you need to be innovative to remain out of the collateral spots…
And shit hit.
It hit in 2007, 2008, 2009, it still smelled a lot and left stains all over the place in 2010 to come back and keep smothering around since 2011.
When shit hit Europe in 2008, an associate whom I was working with asked me about my opinion. And I stated,
this is not a financial crisis. It's a systemic one. This is the beginning of the end of an era.
The sooner we understand this and find the courage to leave the old way of doing things to adhere to innovative paths, the sooner we'll be able to take up the construction of a prosperous world where we left it.
I was ready to bet on the fact our leaders would lack courage to do so.
But as long as we focus all energy on trying to hold on to what we had, time will be the ally of the ones who have nothing to lose.
Dear CEO's, dear politicians and lobbies at their service, dear citizens ready to rely on them to "protect" yourselves, if we don't innovate our ways of doing business, if we don't embrace change, if we do not give up our prerogatives partially, we're done with. Game over. It's just a matter of time.
The future is ours. But to grab it, we need to leave de past behind.
Imagine you and your family in vital danger, facing the opportunity to guarantee life for all as long as you leave everything you thought indispensable to your security behind… would you? That's were courage comes in. That's what lacking.
That's what makes the difference between us and emerging economies, that's what makes the difference between us and migrants…
That's where America, for the first time in history hit its limits too. They always had the courage to look to the future, take risks, embrace change. Their roots inspired this attitude. One can be fan or not, but in the end, they were the engine of prosperity, they took Europe's foundation of contemporary economy one step further, carefully keeping the joint venture with the founders as an undiscussed institutional agreement.
Today, living threats themselves, living difficult times since system's imploding, there too, people start looking backwards, and since what they had seems better than what they risk losing in future, they rely on populist opportunism to instrument their fear and sell protectionism.
And yet, protectionism could be a part of the answer, but not in the way we know it. Yesterday, I heard a conference on the radio, stating the number of walls we actually have to "protect" ourselves… And very rightful, the stand-up comedian states, no wall ever held back a terrorist, no wall ever stopped dysfunction.
I fully agree with his statement that the presence of soldiers in our streets has merely one effect: create the impression the political world acts upon the threats we live.
I even totally subscribe to his somewhat terrifying idea they should be replaced by the red cross, since they would be more useful in case of a terrorist attack.
Dear leaders, our fear is our biggest enemy, our courage is our indispensable engine to go forward and our hope is the fuel we need.
I wish you tons of hope and courage, please leave the old world behind and create a better place.
Categorieën: Geen